Lillypilly has designed a unique line of anodized aluminum sheets and discs in a wide array of colors and patterns. Lillypilly is lightweight, durable, and the patterns are engraved with contemporary designs that bring fun and invite creativity.
There are so many ways to use Lillypilly Designs.
We thought that we would share a few of our favorites!
With Lillypilly:
1. You could try cutting with shears.
Using metal shears, you can cut random freeform shapes or standard shapes like: circles, hearts, rectangles, diamonds, squares, or triangles—the possibilities are unlimited.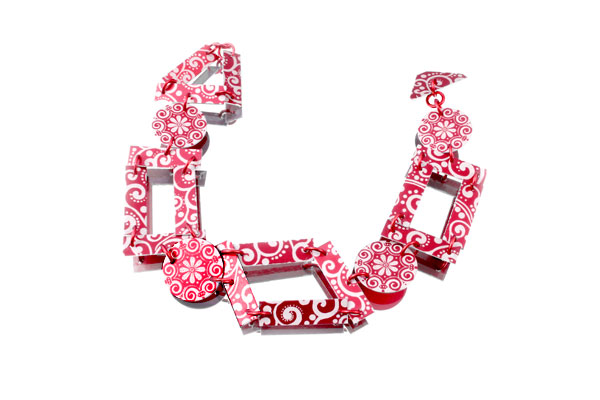 Tool Tip:
Even with quality shears, it is normal to get some bowing as you cut your metal. To straighten the edges of your Lillypilly, you can flatten your piece on a polished steel block using a rawhide mallet to prevent marring. Or, try a different method—make a Lillypilly sandwich! That is, reach for your Bench Block Helper. Place the Lillypilly between the polished steel and the nylon blocks and hit the nylon block with your hammer to flatten the anodized aluminum without marring it.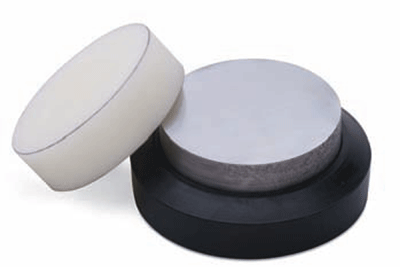 Handy Tip:
Lillypilly is durable and able to be tumble-polished with stainless steel shot and Shine Brite Burnishing Compound for up to 2-3 hours. This is an ultra-easy way to get silky smooth edges after cutting your Lillypilly. Be sure to check out our Tumbling Magic 101 Free Tutorial for additional information on tumbling metals.
2. You'll love sawing!
A jeweler's saw with a 4/0 blade allows you to cut very intricate designs into Lillypilly shapes. Just look at these fun examples and imagine the possibilities. If you haven't used a jeweler's saw before, consider learning the new skill with Lillypilly. The softer aluminum is easy to saw and makes learning fun. You will be a "sawing pro" in no time!
3. How about stamping?
Remember to use a firm surface when stamping designs into your Lillypilly. Rubber blocks are too soft and don't allow you to get proper definition. Because aluminum is a softer metal, use a light touch with your hammer. Work on a polished steel block to prevent marring, and you'll be giddy with the results. You can use any of our metal stamps, both symbols and letters.

4. You can create components.
You can use a simple handheld hole-punch like the Euro Punch Pliers to put holes exactly where you want them in your Lillypilly shapes. This allows you to create components for designing bracelets, earrings, and pendants. Consider connecting your custom components with our enameled copper jump rings, which come in an array of colors and sizes.

Handy Tip:
Put a small square of plastic canvas on the punch pin of your Euro Punch Pliers. This will help prevent leaving a dent and marring the metal.
5. Why not add a little resin?
Using resin over your Lillypilly discs and shapes will produce an eye-catching vibrancy and depth. The colors really pop when they are magnified under the resin.
With Lisa Pavelka's Magic Glos you don't even need a cupped bezel, as the resin itself will dome nicely over the flat surface of your Lillypilly. Simply add the resin in layers, curing between each layer to gradually build your dome.
Another option might be to curve a round Lillypilly disc in a wooden dapping block. Use this cupped shape as base to hold beads or found objects. Then, fill it with resin, securing the chosen objects into place. Just for fun, try attaching the custom component to a ring form using an adhesive such as E-6000.
6. Customize your colors with no fail techniques!
You can add color to your anodized aluminum pieces with permanent ink pens such as Sharpies. Color over the silver areas to create your own color combinations—you can even make Lillypilly match your favorite outfit!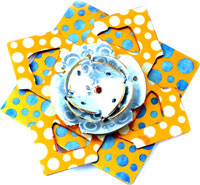 Do you like to color outside the lines? No problem! Apply the permanent marker to the face of the metal. Then, immediately take a Pro Polishing Pad and lightly buff the surface of the metal. It will lift the color off of the anodized sections of the metal, while leaving the color on the silver engraved portion. The Pro Polishing Pad works best when used shortly after the color has just been applied. If you don't like the color that you chose, you can use alcohol to remove it completely, allowing you to start again.
Lillypilly's metal sheets and discs are a colorful addition to your jewelry designs.
With Lillypilly in your hands, the possibilities are endless!